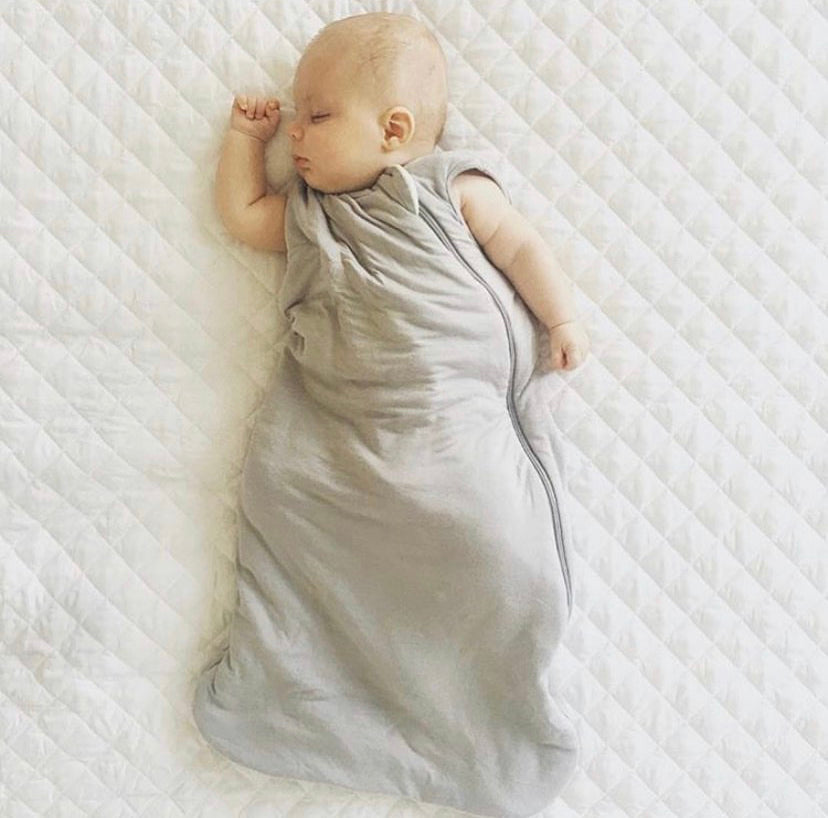 It's no secret that new babies come with a big change of sleep habits for Mom and Dad. The transition from womb to real world is a pretty huge deal, so it is no surprise either that these beautiful little ones are up several times a night. I am expecting my first baby in just two short months and call me naïve, but this mama-to-be loves sleep. I've put together a list of four different types of swaddles for newborns and infants that may give you Mom's and Dad's out there the gift of sleep (even if just a couple more hours a night).
Let's begin with our best seller: the Zen Swaddle. Developed by NICU nurses, this swaddle is designed with small bean bags that rest on the baby's chest and down their sides to mimic a mother's touch. This is especially helpful during those oh so dicey "transfer moments" when baby must go from the warmth and comfort of your arms to their crib. The movement away from the mother or father's chest will often startle the baby awake and then you are back to square one. With the Zen Swaddle, the weight of the bean bags mimic the gentle pressure of your palm on their chest and being held in your arms, keeping sweet baby asleep while you lay them down. The Zen Swaddle comes in one size with a variety of patterns and colors. Their two pouch design offers two sizes allowing this swaddle to grow with your baby from newborn to about six to eight months.
The Ergo Swaddle and the Miracle Blanket Swaddle are two similar styles. These are more of the traditional swaddlers with a pouch for baby and flaps that tightly velcro the baby's arms down and give a snug, secure feeling over their chest. The Miracle Blanket offers a unique design with two sets of flaps. One set of arm flaps to help initially secure the baby's arms down by their side or in the "hand-to-heart" position, and then a larger set of flaps to snuggly wrap around the baby's chest and belly, making them feel secure and held. The Ergo Swaddle offers the same comfort with snug arm and chest flaps to wrap around the baby, but they also have a special design feature that saves valuable time during those late night diaper changes. A removable leg pouch allows parents to change the baby's diaper without having to un-swaddle the baby's arms and chest. This has the added bonus of keeping baby more comfortable and sleepy than some swaddles that must come completely off.
The SwaddleUp swaddler is perfect for your little one that loves to move and break free from the having their arms secured down by their sides. Short, enclosed sleeves offer a little wiggle room for baby to move their arms or touch their face. This will allow for self-soothing, which means more sleep for baby… which means more sleep for Mom and Dad. Major win!
As your infant begins to grow and change, they will start to roll over, requiring their arms to be free from the swaddle so they do not get stuck. At this point your baby can still comfortably sleep in with their chest snuggly wrapped in their swaddlers with their arms not wrapped down. As they continue to grow, you may think about moving them into a sleep sack, like our Kyte Bamboo Sleep Sack. These come in four colors and are extremely soft and cozy making the transition from swaddle to sleep sack easy and drama free. These are loose fitting sacks that have holes for baby's arms to go through and simply zip up the front from their toes to the collar. Once your baby graduates from their infant swaddle, they could sleep in a sleep sack until they are 36 months- the largest size we carry.
Sleep is a beautiful thing, and one that many new parents, like myself, think flies out the window with the arrival of their newborn. Get the gift of sleep and give the gift of comfort and security to your sweet newborn with these swaddlers and sleep sacks. Sweet dreams parents!